Recently, there was a lady on post selling ridiculously discounted tickets for LotteWorld in Seoul. We snatched up a few and went with some friends a few days after Christmas. Despite not really knowing where it was, we lucked out and found it easily. To say we were overwhelmed would be an understatement.
Obviously those pictures are not mine. My pictures are all horrible cell phone photos that I snapped while trying to wrangle coats and a backpack and squirmy little people.
Riding the monorail that ran above the indoor theme park.
LotteWorld is the world's largest indoor theme park, and I think you can see why we were all standing around with our mouths hanging wide open. There was just. so. much. There were plenty of helpful employees that spoke enough English to help us get to where we wanted to go. We arrived as they opened and found the bumper cars. That was one of the main things that Sam wanted to do. Unfortunately he couldn't reach the pedals himself, so I sausaged myself into his car while Steve rode with Molly. Two minutes of pure fun! We went on a few more kiddie rides before the lines started getting a bit outrageous and it was time for lunch.
Tight.
I'm not sure if you're allowed to bring in food or not, but no one checked my bag or said anything when I pulled a picnic out for the kids.
Naturally I positioned us right underneath the train. Entertained long enough to eat something!
We got lost in the Folk Museum section where many signs attempted to explain to us the origins of Hangul and then attempted to make art out of it.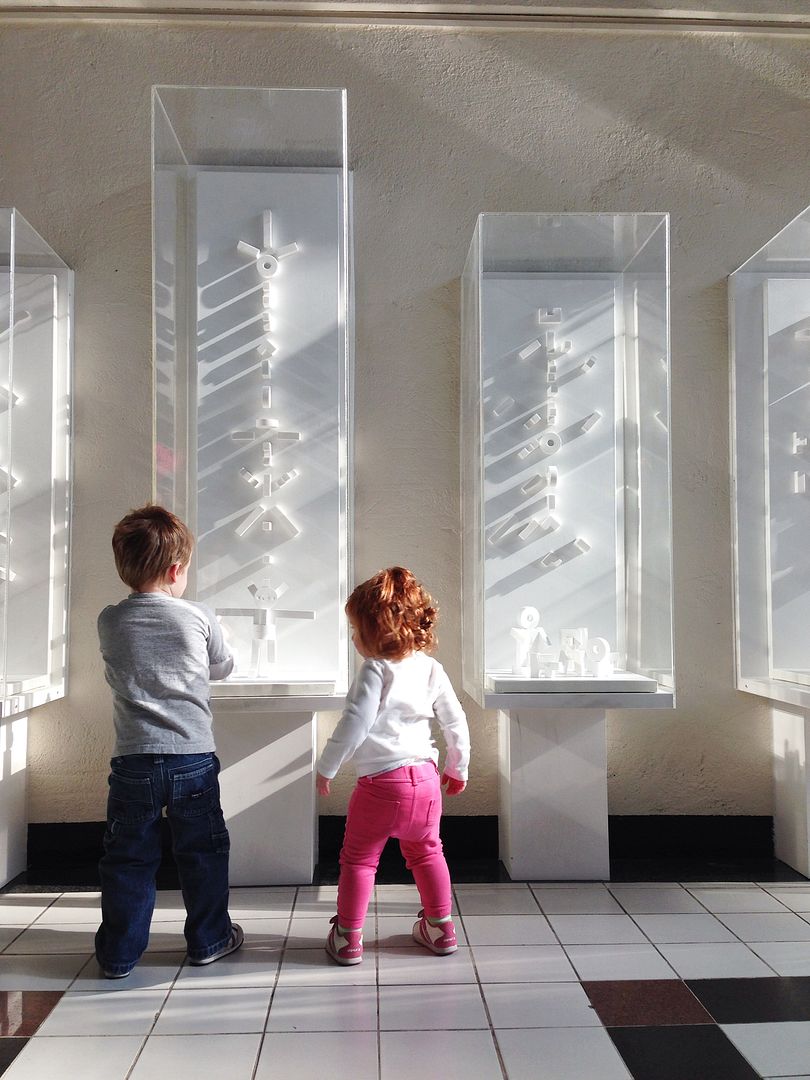 There was also a little trick-eye museum. We wanted to go through more of it, but clearly the kids were not going to cooperate and pose for each photo like the creators intended...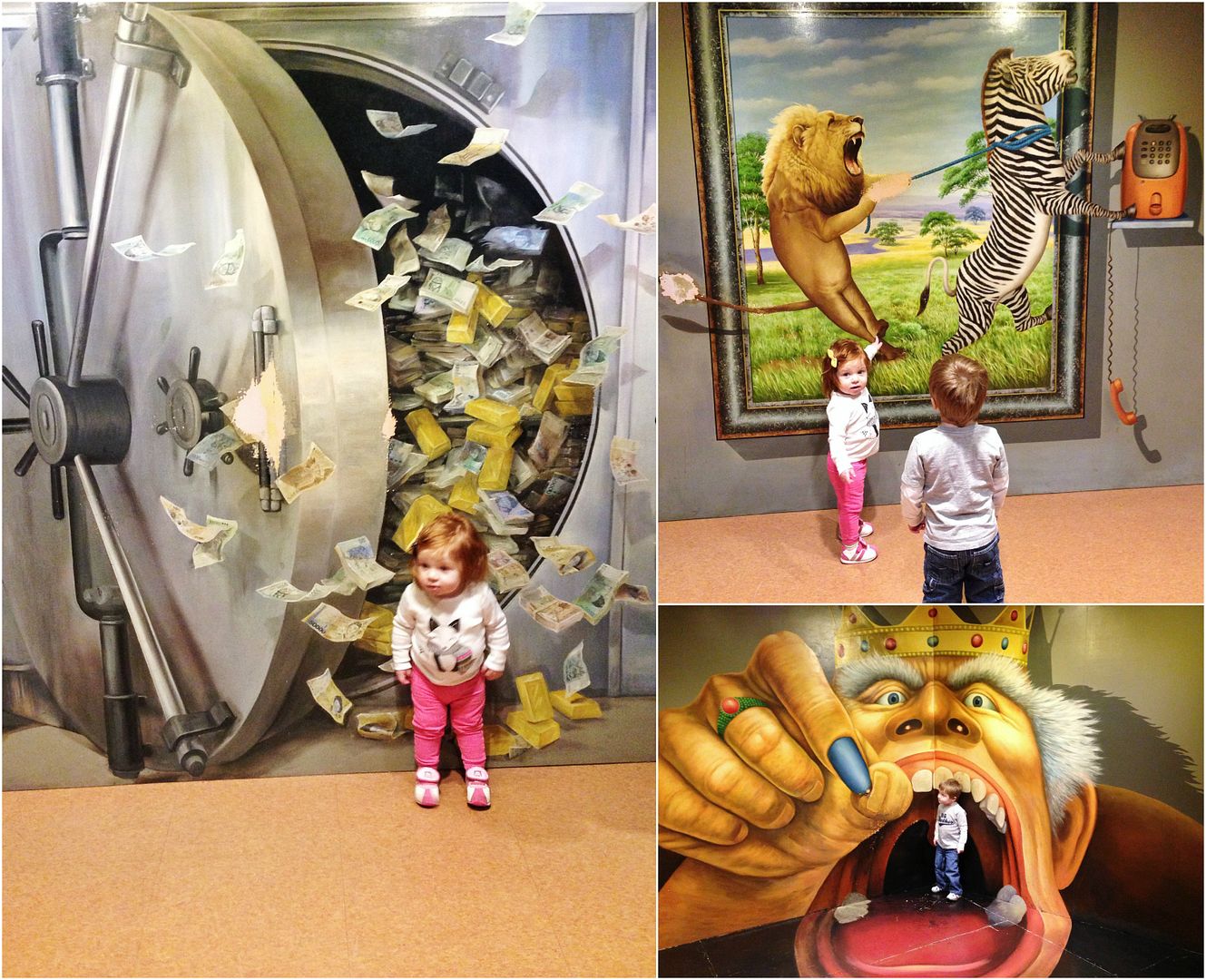 Fail.
We wandered around and realized that the kids were about a foot too short to ride anything worth waiting for. We happened upon a group of bagpipers (Korean, of course) and wondered what this place was. (?) There was also a marching band and dancing characters. There were shops and vendors and restaurants (even a T.G.I. Fridays!) and a few other levels that we never even got to. There was also an outdoor amusement park, but it was kinda chilly that day (you wouldn't have been able to tell by the amount of sweat dripping down my back though!), and we knew the kids wouldn't be tall enough to ride anything there. There was also a giant ice rink with lots of kids practicing ice skating, speed skating, and some form of synchronized skating.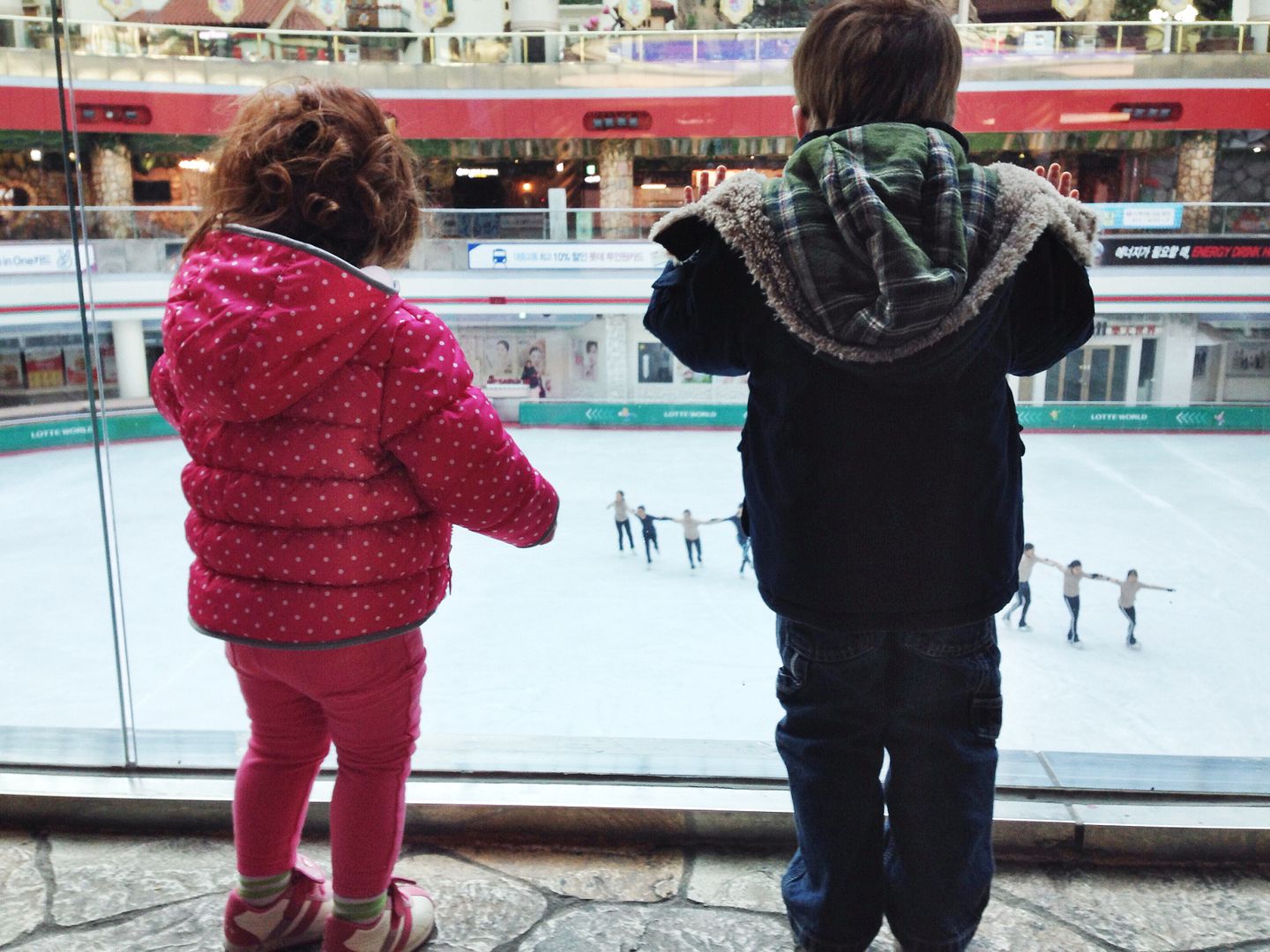 Mesmerized.
We knew the end was near by the time we got in line for the carousel, but Sam insisted that he wanted to do it, and since we were standing in line with friends, it went fairly quickly and the kids were entertained by each other. Once we all got on though, it was a different story...
Fuh-reeking out. And Molly is half-asleep in my lap.
In hindsight, I think they would really enjoy a place like this when they're about 7 (although I'm still glad we went to check it out). They were too overwhelmed (so was I) and honestly, they really get their kicks on a trampoline or in a sand pit right now, so I think we're just gonna stick close to home and hit up our usual kids cafes. Cheaper, easier, and we can always be home by naptime.
Sweet, blessed naptime.