Almost Wednesday? Yes? Sounds like it's about time I recapped the weekend then. (Fashionably late, or so I like to think.)
Sam, my firstborn, turned three this past Friday. Bless his heart, we've never celebrated his birthday before. I mean, we celebrated in some half-ass ways, like at the
Tennessee State Welcome Center
or with a cupcake, but due to Steve's work and deployment, we haven't really celebrated a child's birthday outside of cake. Luckily they are the birthdays that they aren't really aware of. (I will never bust my hump for a one year old's birthday party. I will not. I will not. I will not.) But for
this
birthday, we had big plans to go to Seoul and do something fun.
But first? Birthday waffles.
We had every intention of hitting up this mega kids cafe, but our craptastic GPS was fully against this plan. Since we were getting to Seoul around lunchtime, we figured we'd have lunch at Yongsan (big Army post in Seoul) and get the kids socks at their mega PX. After all of that (we are not the most efficient time-management people, I'm sure you couldn't tell), we ended up at a massive playground on post. We saw a blackhawk land near us, so for Sam, it was a pretty sweet day. We headed home through tons of traffic and enjoyed the silence of a simultaneous nap.
Is there a sound sweeter than this?
Then we played at the playground on post before ordering a pizza for dinner.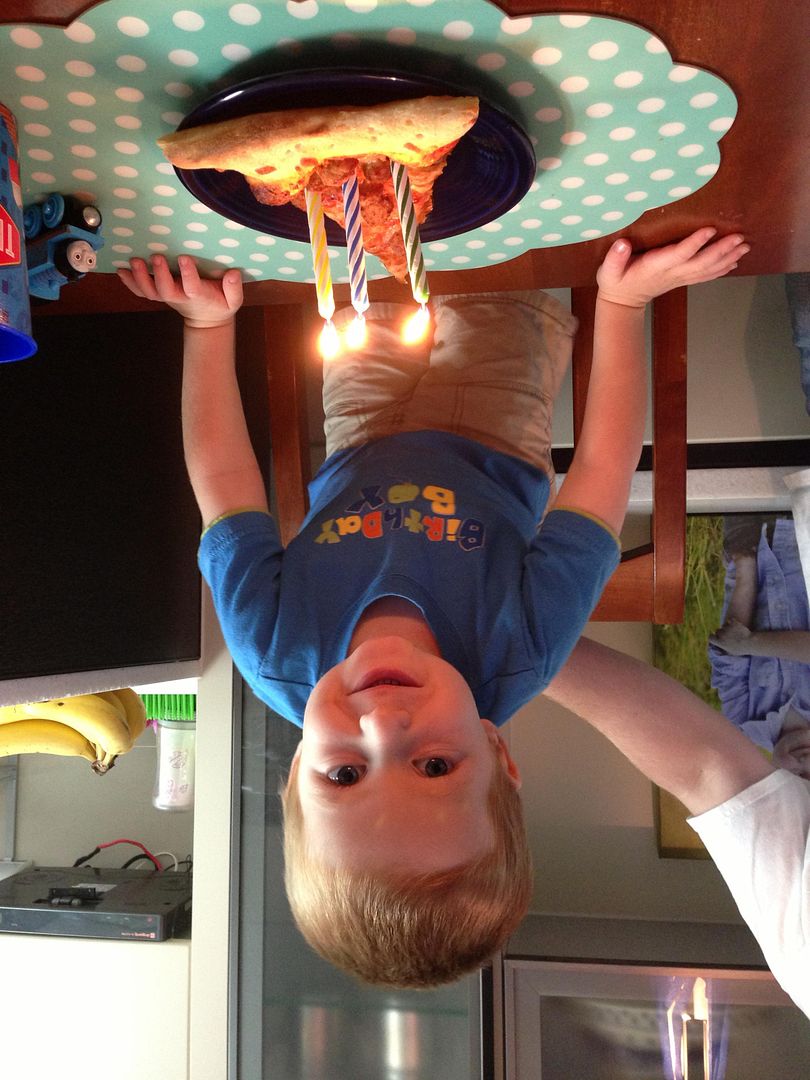 Glorious iPhone photos courtesy of the fact that I cannot take a video, iPhone photos, and real camera photos simultaneously. I know, I'm working on my shortcomings.
His only real request for his birthday was to blow out candles ("bow out kindells"), so we tried to stick candles in every food possible that day.
Yeah.... this cake is lopsided and poorly frosted. And we found out afterwards that he does not care for sprinkles. So.... yeah.
Since our plans for a grand birthday celebration never quite happened, we figured we would spend the rest of the weekend just trying to cram in playgrounds and other fun stuff to make up for the fact that we one hundred percent blow at executing successful birthday celebrations. We started Saturday morning off with a family hike.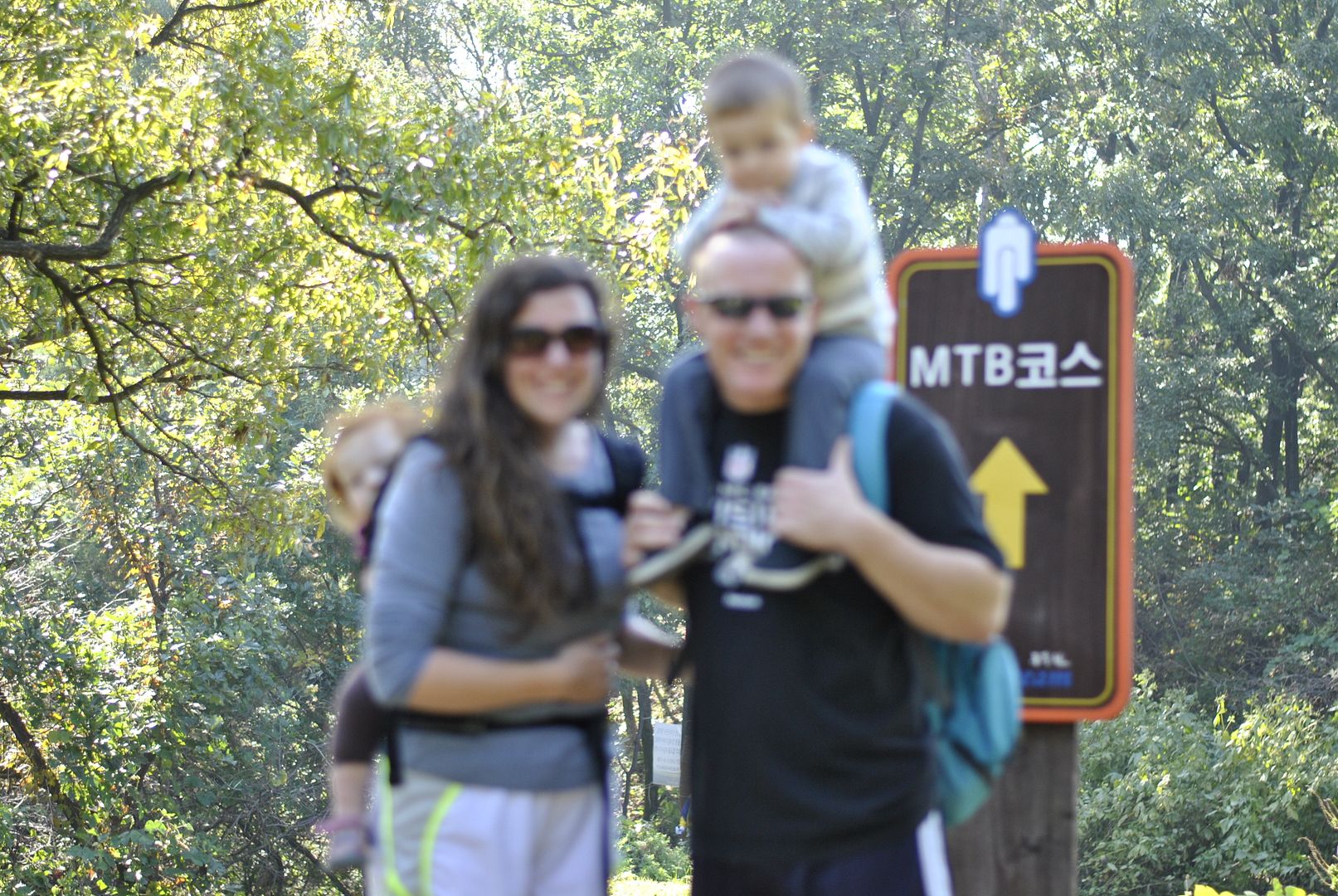 Sort of...
Kind of....
There we go! Well, almost. Sorry Molly. I'm more concerned with covering the totally unflattering muffintop that damn Ergo gives me instead of getting you in our family photo (taken by a 60 year old man who whooped my tail when it came to climbing this mountain).
It's starting to get legit chilly here! Bought Sam this outfit at Yongsan PX so we didn't look like abusive parents. (Happy birthday!)
Oops I might have just sharted.
I don't want to spam you with mountain pictures you might have already seen on instagram, so I'll leave it at that. Rest assured though, we had our hineys handed to us on that mountain. And by we, I obviously mean ME because one of us is in extremely good shape and the other two of us were carried via slave labor.
We headed home for lunch (this mountain just so happens to be in our backyard) and then headed out to a playground we found while we were lost one day. (We get lost quite often, but usually end up finding nice things.)
In the summer, this part of the park is a water park. The other half of the park (slightly more impressive) is a regular playground.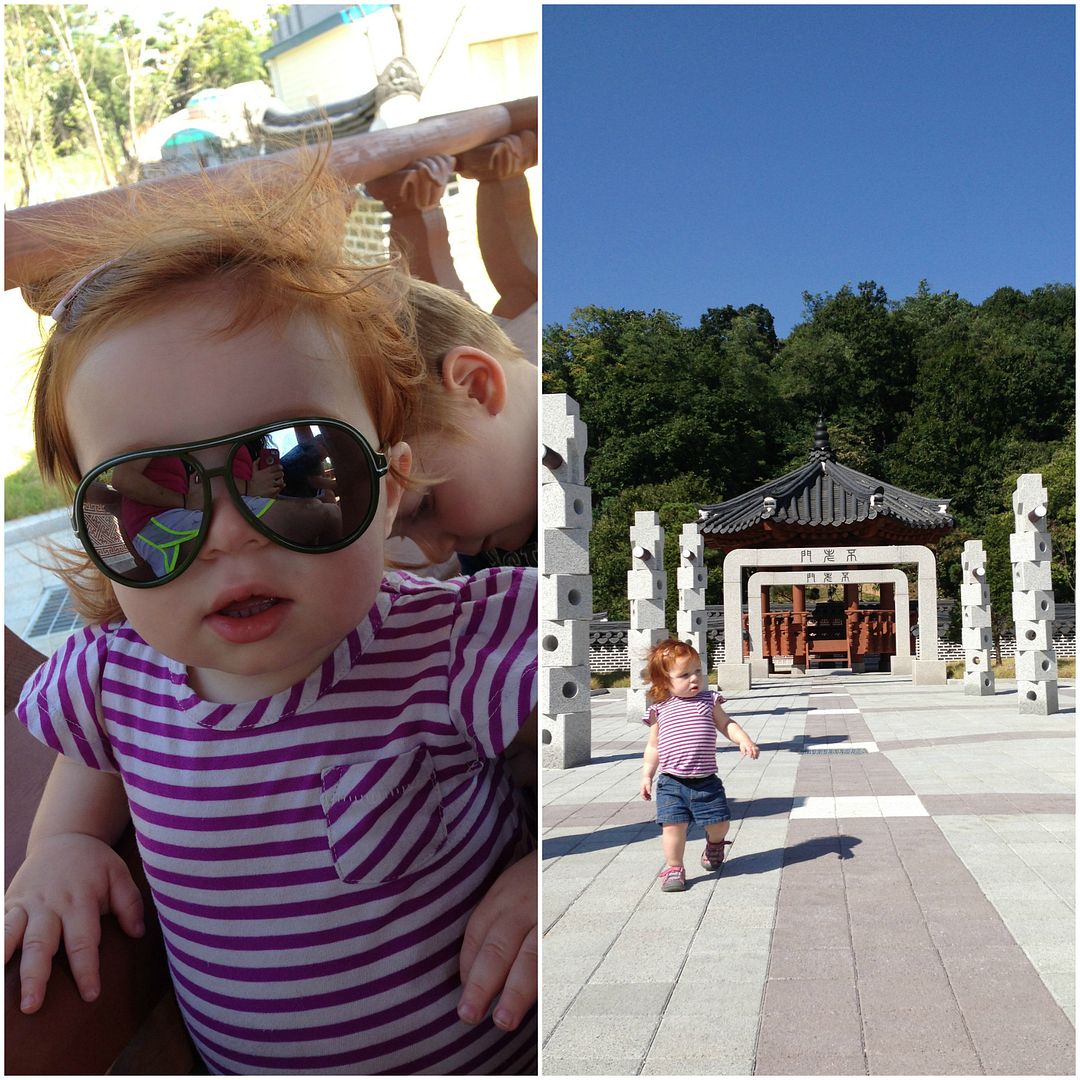 Molly- too cool for you. And temples.
Naptime! We hung out at home, cleaned floors, and watched Sam's birthday present- Cars 2- and ate dinner. Then early bedtime for everyone!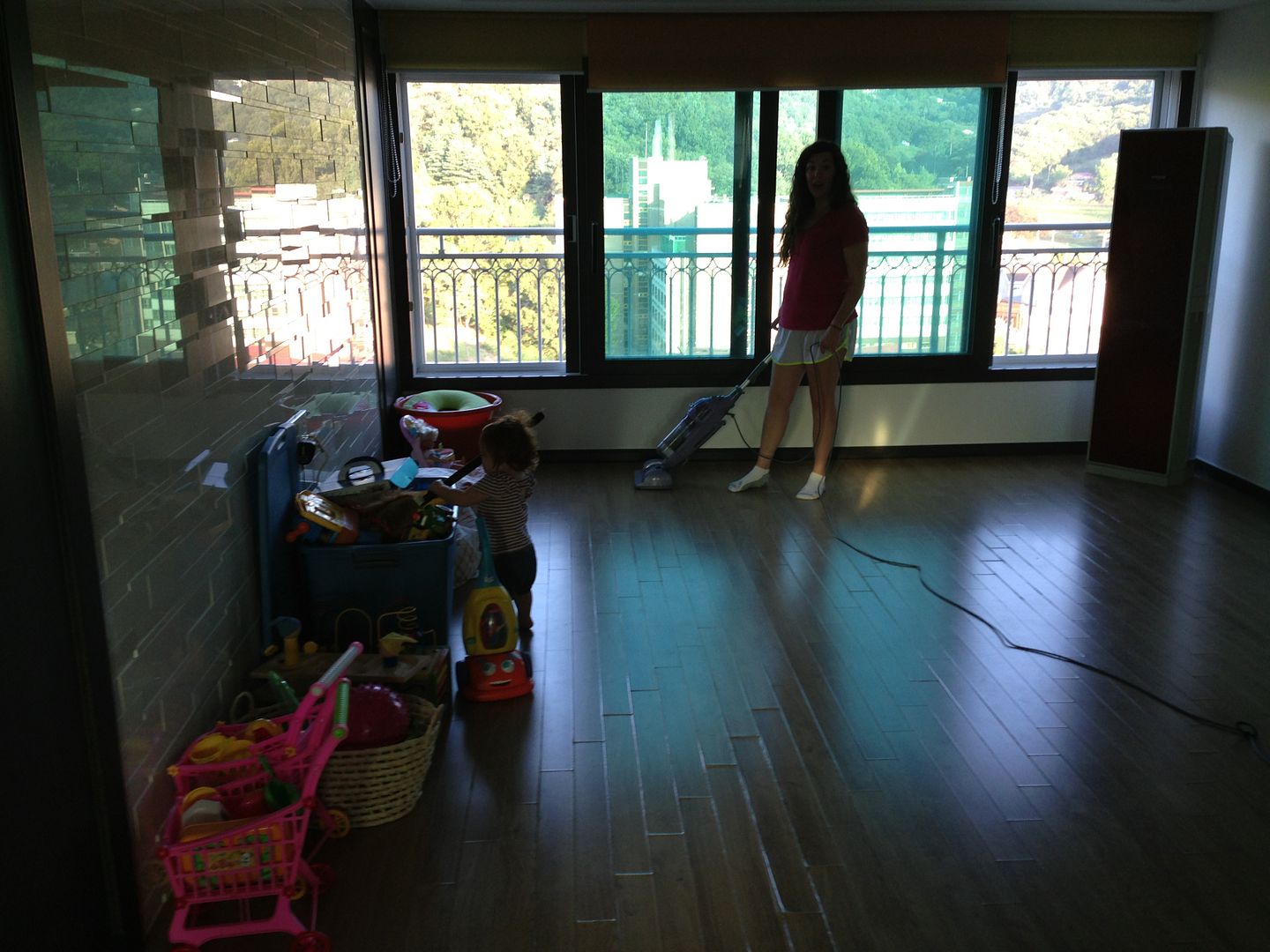 It's a glamorous life here, folks.
Sunday morning, we lazed around, made breakfast, then headed up to post. Koreans are not morning people, so since the commissary is run by something like 90% Koreans, it does not open until 11am. Every single day. So that's fun. We made it up there in time to wait outside with all the other impatient Americans. Steve and the kids hit the playground and I got to grocery shop in peace. Huzzah!
Sam prides himself on taking quality photos of me. And his finger.
Later in the afternoon, we headed out to a field Steve found sandwiched in between some apartments in town. And it did not disappoint.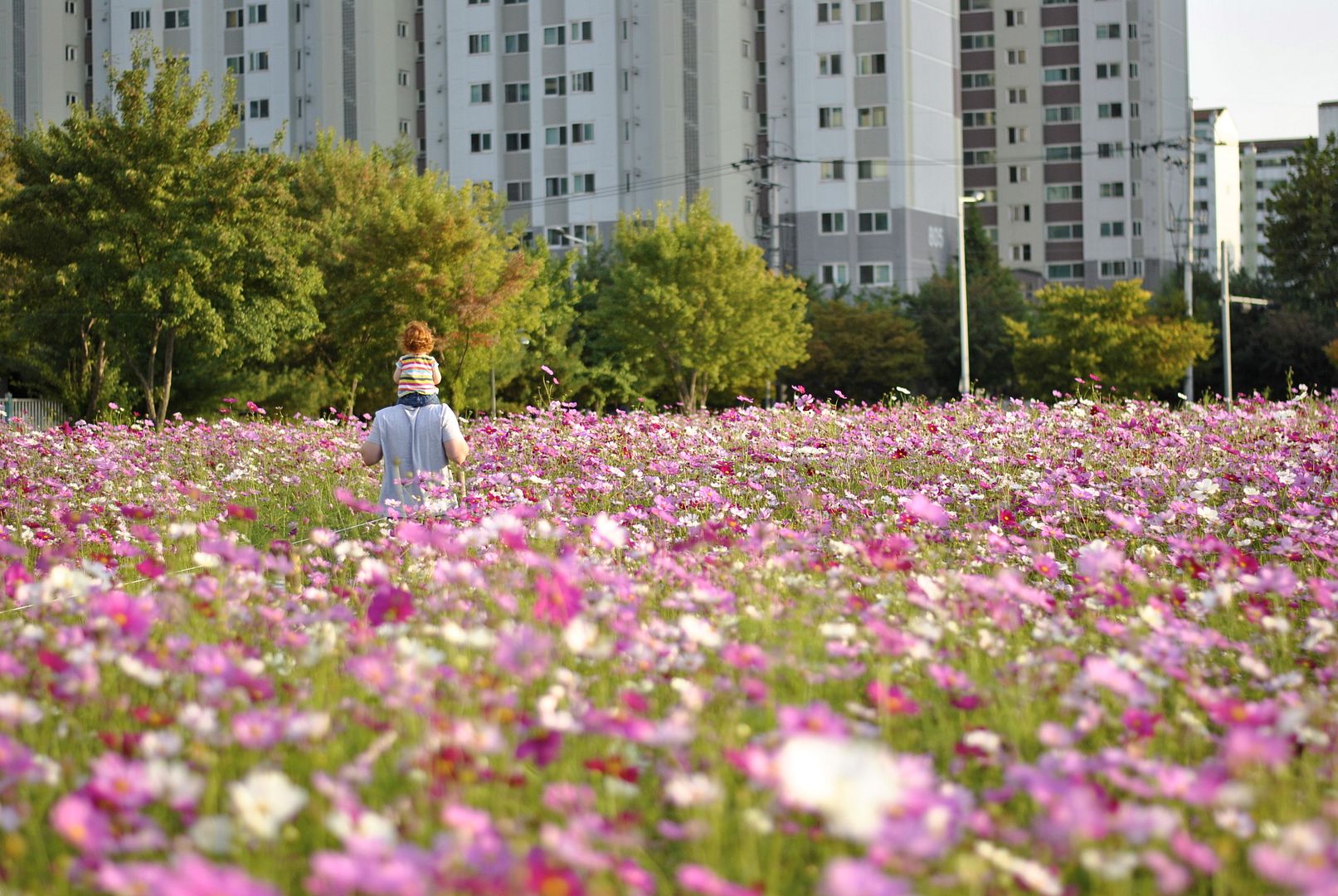 Look how tall these suckers are! An entire city block of this!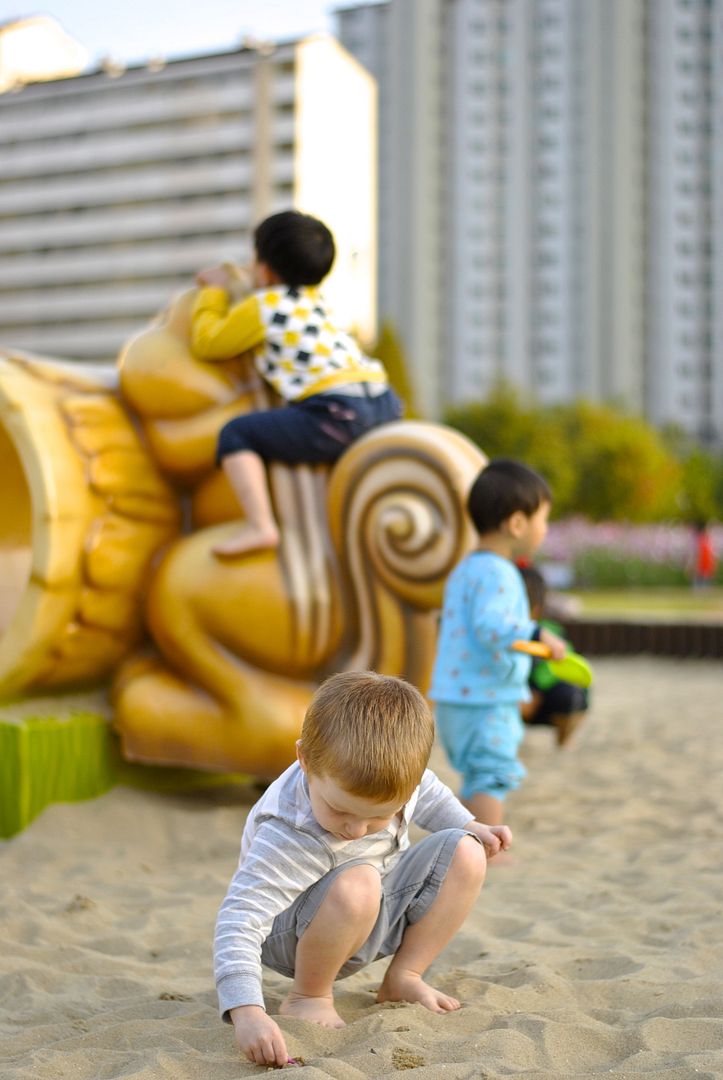 Naturally there's a sandbox. This country was built for Sam (and all other toddlers) apparently.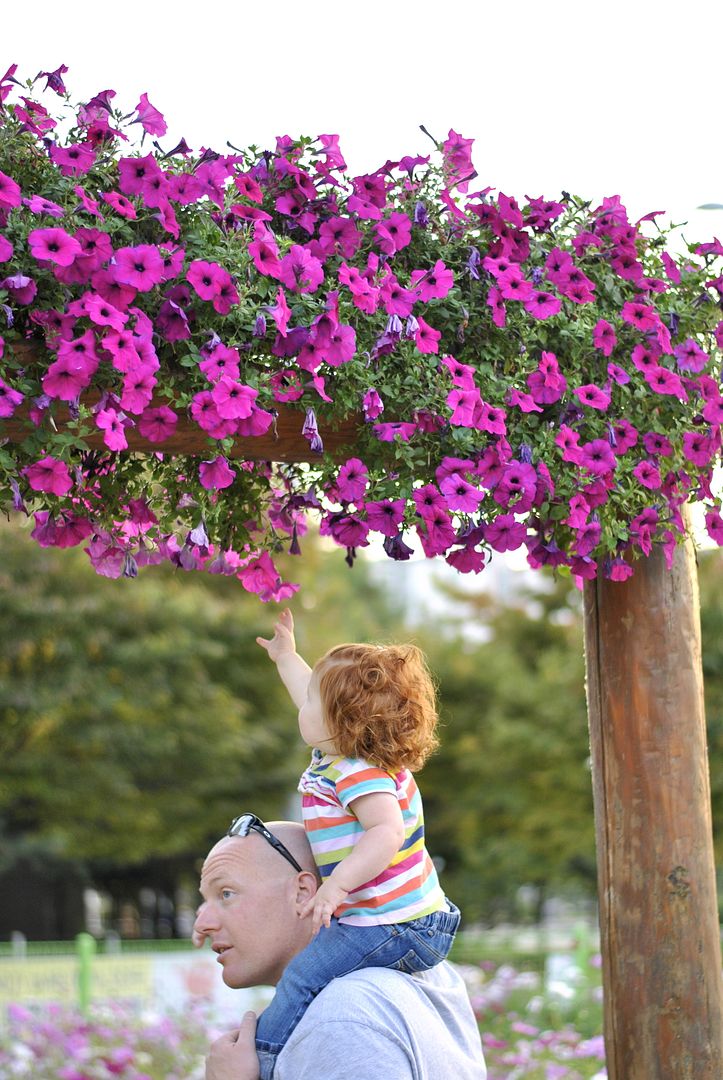 Yeah.... she got one.
Monday morning, we got in the car and didn't even know where we were headed. We just typed something into the GPS and off we went. And our psycho GPS took us right up by North Korea. Not scary at all. In fact, it's so not scary that the Koreans built a super fancy outlet mall right next to the border!
We didn't shop, but we did use their bathrooms and stare at the water fountains and eat lunch at Johnny Rockets after we played on the tiny playground.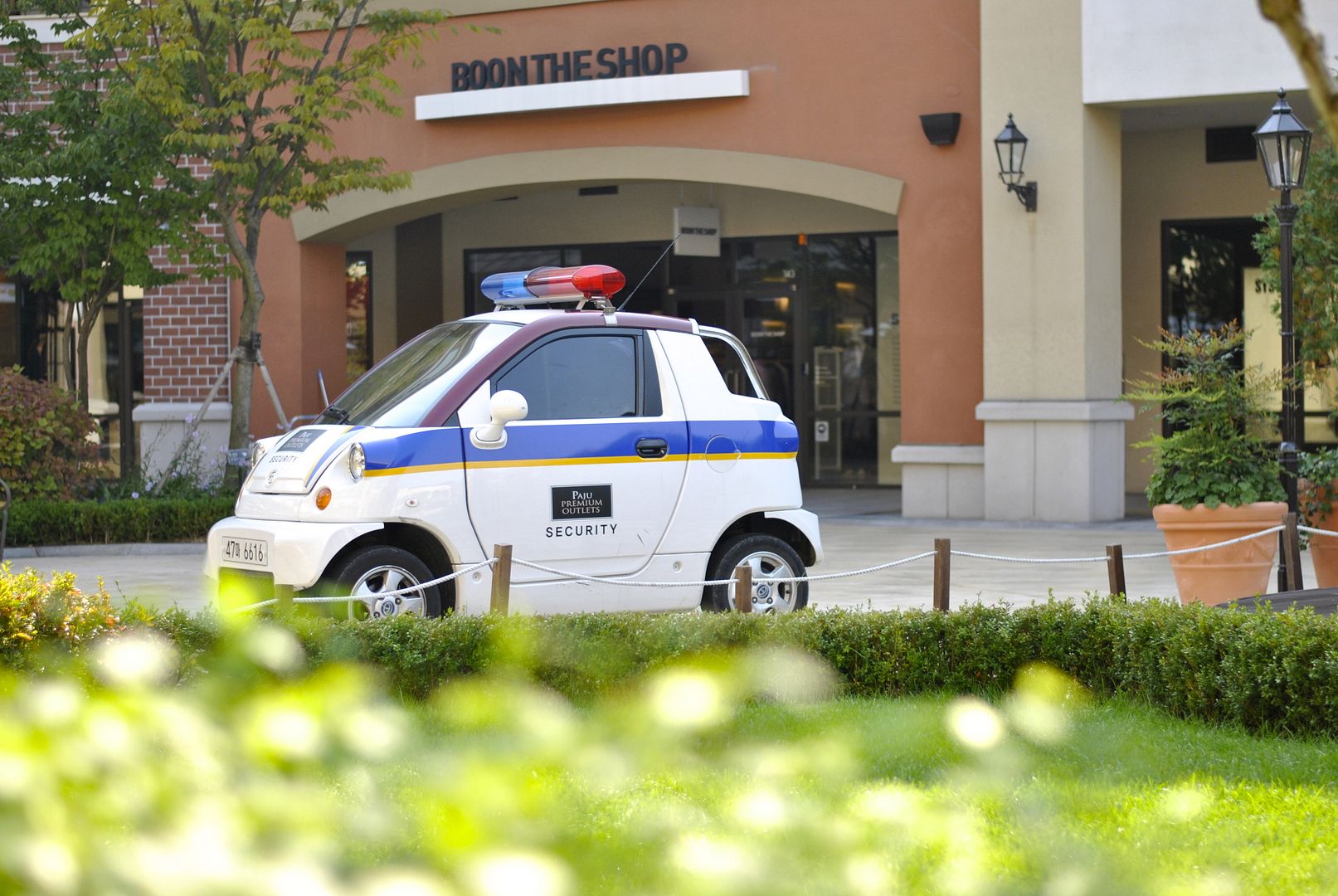 The beefed-up security you'd expect when you're sitting on the border of N Korea.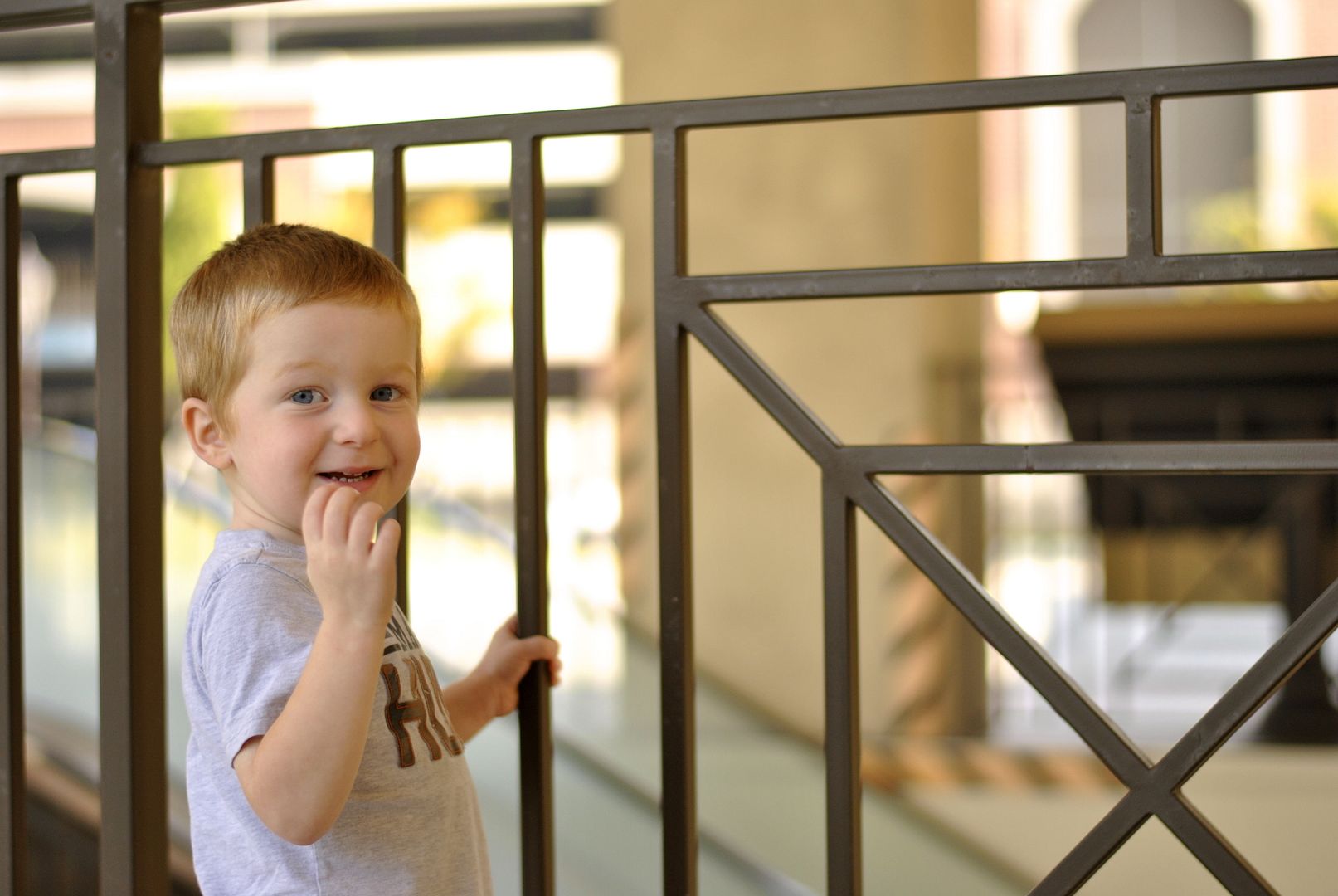 Escalator-watching (they are motion-activated here! Great idea, right?)
She is always trying to ditch us for the cool Koreans. We don't fawn over her red hair like they do.
After lunch, we headed back (a different way) and Steve dropped Molly and me off at the house so she could
not
nap and took Sam to play at a playground on post. We all reconvened in time to eat bulgogi pizza and splash water everywhere but inside the bathtub.
It was a jam-packed weekend, but it was so fun. I hope Sam had as much fun as the rest of us did. I think it was a great birthday weekend and can't wait to see what year 3 holds for him!
(Also, my apologies to my facebook friends since you have already seen 80% of these photos.)