Went on a girls' day out on Tuesday. Naturally I only thought to take a picture of the food. To be fair though, it was really good food. Knocked out a bunch of Christmas shopping and then hit up the commissary child-free. Mamas, you know how good my day was!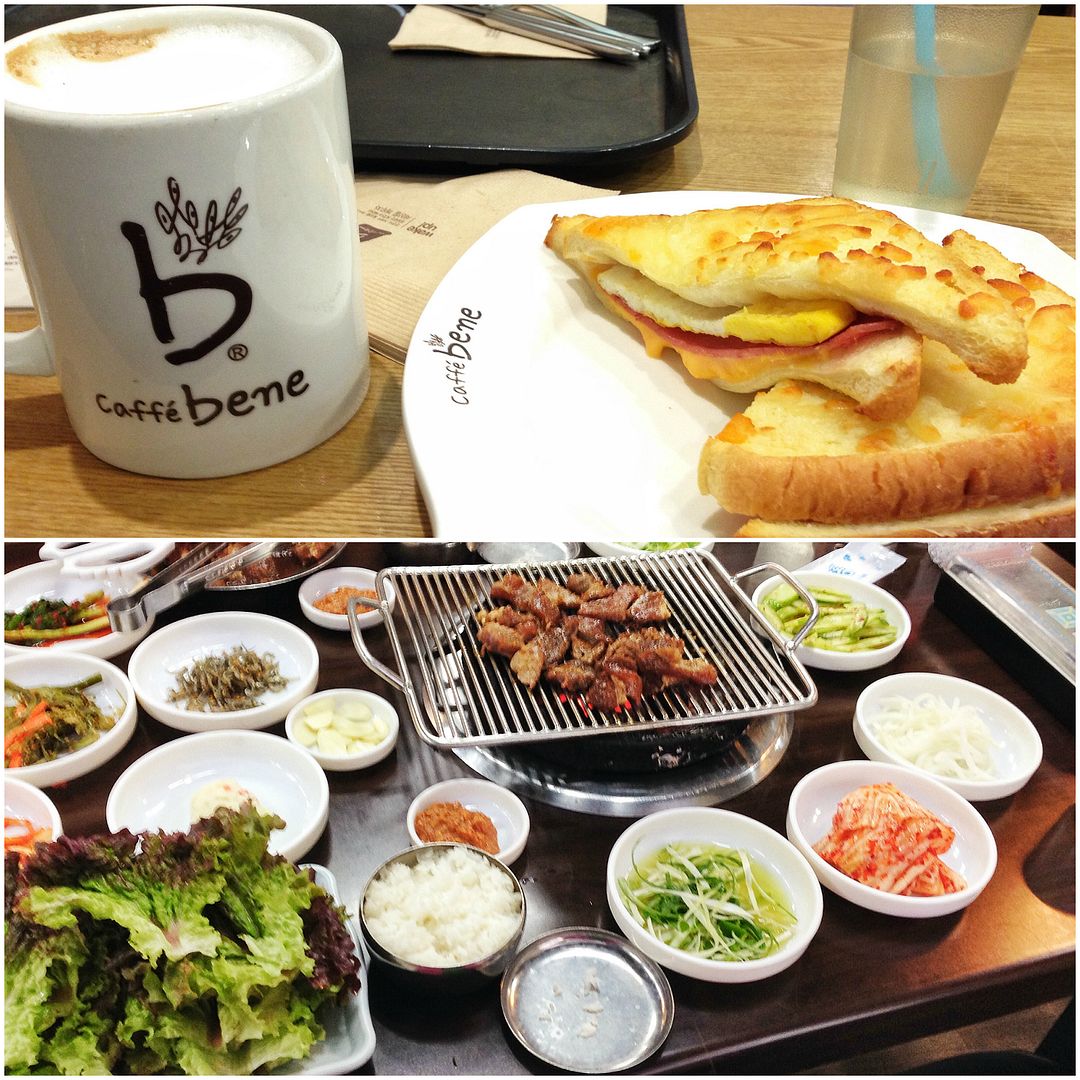 I'd cut a btch for a breakfast burrito from Sonic (good taste- I have it), but this cheesy eggy hammy sandwich was pretty good too. Late lunch at a beef and leaf was amazing as well. I love all the sides!
Sam really wanted to help me prep for the Thanksgiving meals. I was making cracker mix ("crack" for short), and he wanted to help stir. He'd graze the top of it with the spoon, then pick out 8 pieces to sample until I took the bowl away.
We later took the crack to a friend's house for Thanksgiving dinner and noticed Sam didn't even bother using his hands and just STUCK HIS ENTIRE FACE in the bowl. Ahhh yes, I couldn't be more proud of the manners we are instilling.
Our first Thanksgiving meal was celebrated around lunchtime with lots of Army friends from our apartment complex. There was a TON of food and it was all amazing. I sampled a bit of everything and didn't have a single thing that wasn't delicious. And even if I did, I was eating so fast in order to continue refereeing kids that it wouldn't have mattered.
The spread, Molly, her confused face, and her boot twin (aka Dada aka Sofia), and one of the spicy turkeys I made (pre-shred).
Overall, I think Thanksgiving food tastes better when someone else makes it (Mom and Dad) and when you can wear your stretchy pants at the dinner table without judgement. I opted for stretchy jeans and then mostly ate food that other people made. (Compromises.) We attended dinner at another friend's house later in the evening and I took zero pictures there. There were fewer people in attendance and the kids were fully contained, so I was quite busy eating everything in sight and not taking pictures. Overall, I ended up making 2 spicy turkeys, glazed carrots (brown sugar and butta' mmm), butter and garlic bread, garlic chicken puff bites, cracker mix, fudge, and knock you naked brownies. It was a most delicious Thanksgiving and while I really missed my family back home, I'm so very thankful to spend the holiday with Steve this year.
I had my first Korea blate yesterday! Noel (who reeeeeeally needs to blog more often) was here in Korea visiting her husband, who just so happens to be stationed right down the road from where we're stationed. They needed some Christmas card photos, and I was more than happy to help.
And bonus! No one died while I was driving us around! Did I mention that I got my driver's license??
Naturally I hadn't driven in four months, it was the first snow day of the season, and I'm from south Alabama, so you do the math. It took me 20 minutes to drive home (remember: we live 2.5 miles away), but I ran a red light just to be a Korean badass. (Don't freak out, it was just a pedestrian light. And there were no pedestrians in sight. And everyone does it. I promise.) I was driving yesterday and ran over a small hunk of ice while parking and almost DIED because it sounded like I crushed a small child and punctured the back tire. (I didn't.) Steve assures me my rapid breathing and threats to never drive anywhere again were an overreaction. This winter... it might be kinda long-ish.
And possibly the best Thanksgivukkah present of all this year- our beloved Auburn Tigers pulled out a win this morning over the always big-headed Bama. Since we don't have cable, I was reading the play-by-play via twitter updates from Auburn and CBS and the anxiety- OH THE ANXIETY! I still can't believe we won. We screamed and laughed and danced and kissed and I'm really shocked our neighbors underneath us didn't call the cops. Generally there is always a lot of racket coming from our apartment, but this was overkill at 9am, even for us.
Had special Auburn orange hot chocolate to celebrate the big win.
And I think that pretty much catches us up here, folks. Have a great week, and War Damn Eagle.