Familiar faces! We saw them! Steve's parents arrived in Korea last week for a visit. We crammed quite a few activities into their time here with us, so without turning this into a 20-page novel, I will attempt to show you what we did via photos.
NATURALLY, we went "feshing."
We can't play at the river without visiting this old decrepit dinosaur playground.
Picnic!
The kids were thrilled to have someone here that was willing to read the same book to them eight billion times.
Mom mom also had FROZEN on her IPAD and, well, she's pretty much the coolest person they've ever met. (This was the first time Molly has ever seen a "girl" movie, and boy, she was focused.)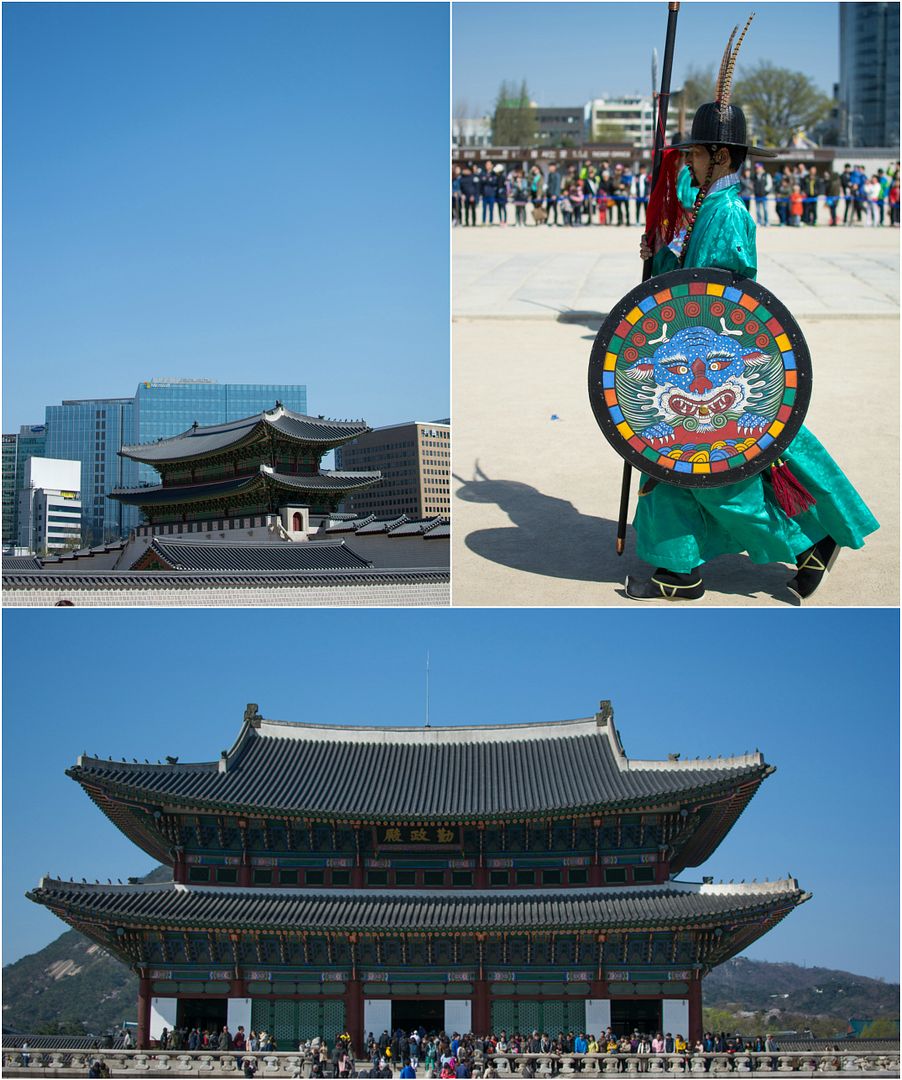 We headed down to Seoul (sans children) to see Gyeongbokgung Palace and the changing of the guard. It's incredible that this ancient palace and grounds are situated right in the middle of the city.
The "selfie" situation in Korea is out of control. Also, hilarious. (See the guy behind me? Others were holding the flowers over their faces. Because I guess it's hard to see that bright yellow wall of flowers behind your face..?)
These ajummas! I am constantly entertained by the fashion here. No one is ever wearing the same thing. While the older women typically lean towards patterns upon patterns upon patterns, these ladies busted out the tight pants, ear muffs, visors, sandals, socks, hair spray, bright colors, and sunglasses for their day trip to the palace. I showed a friend here this photo and she died laughing, saying, "If anyone asks you what Korea is like, just show them this picture. It is accurate."
Next up? Seoul Tower.
Even though you can take transportation to the top, there is still a sizable hill at the end that everyone has to climb. But once you're at the top, the views are breathtaking.
A bit hazy, but still pretty clear for Seoul!
On the ground, we passed by people smashing cans and tossing them into these "recyclable" hearts. once we were at the top of the tower, we saw that they were mirroring the heart-shaped flower beds.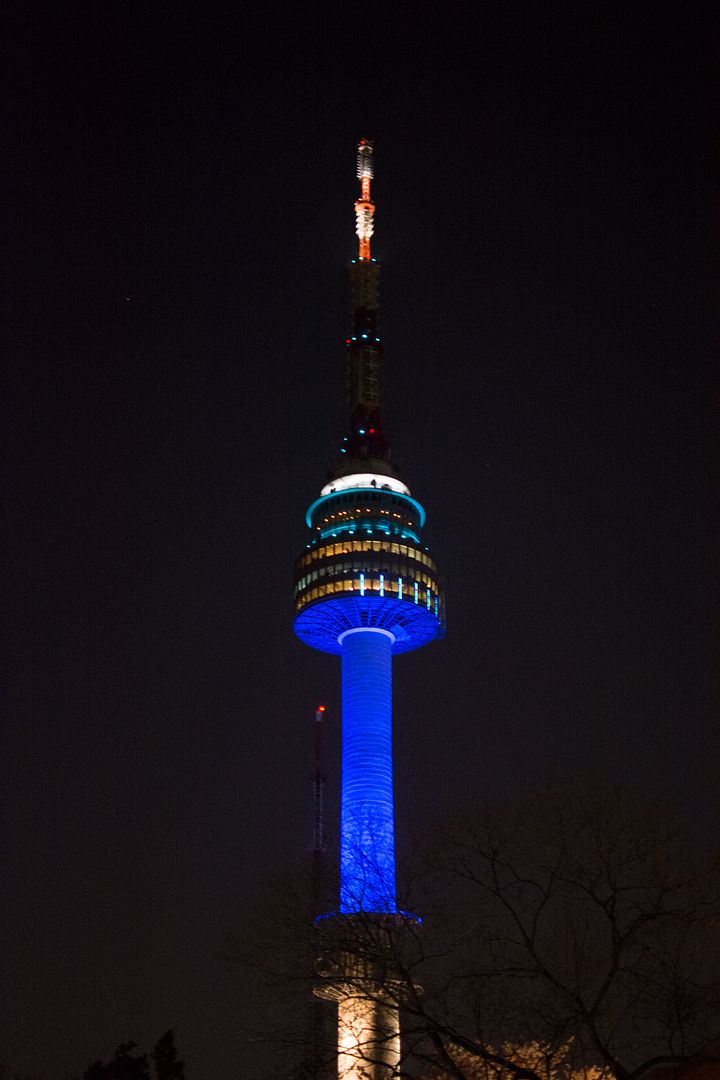 We had dinner at a little Korean restaurant at the bottom of the tower, and luckily for us, it had a wall of windows, so we were able to see Seoul change from day to night. I recommend.
The next day we made the trip out to the waterfall. It's been about 6 months or so since we were last here. We found that part of the road leading to the waterfall was missing, and they added new signs down near the falls about "falling rocks." So that was nice.
Then we baked a chocolate cake. Because why the hell not?
We also hit up lots of parks.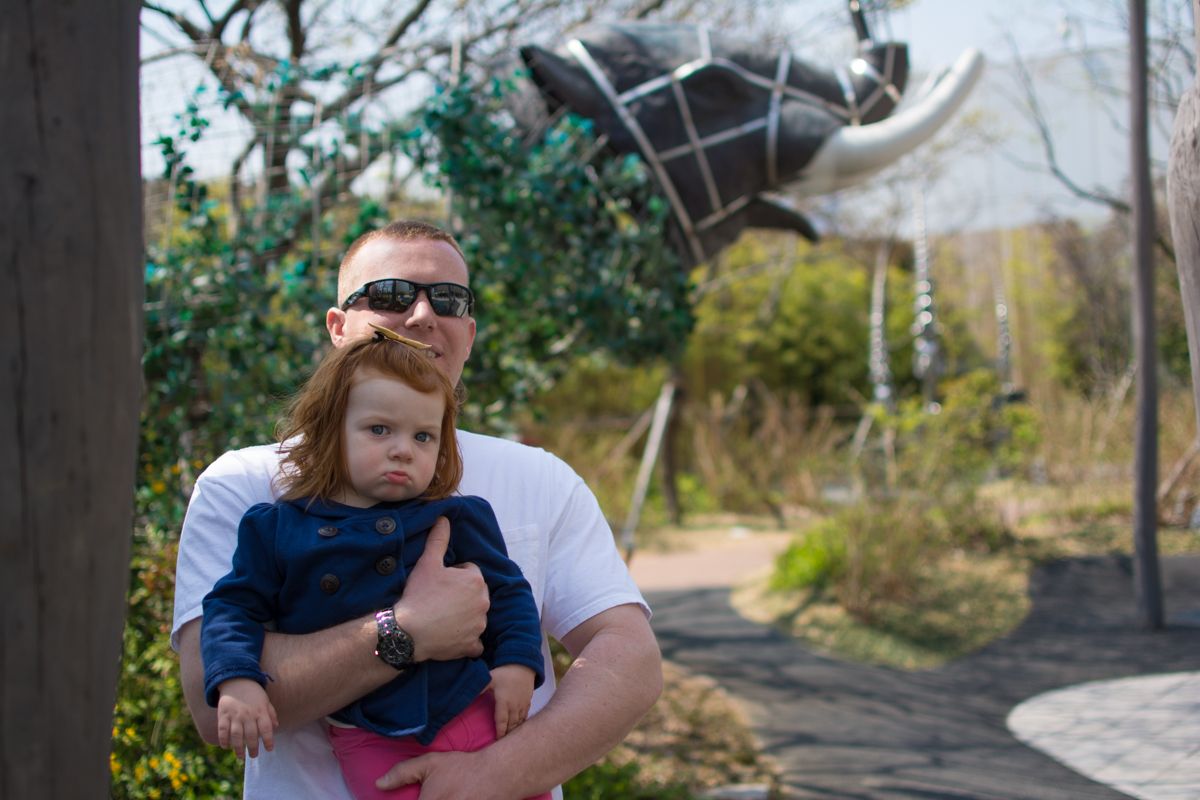 "But where is the tiger?"
Searching for bugs
After a busy week, we said goodbye at the Incheon airport around lunchtime on Saturday. We enjoyed being able to see family and showing them our new home! The kids are still convinced that since Mom mom and Pop pop aren't here with us, they must be on a jet plane. Well ok then.