Yikes, it's been a minute since I've written anything here! If you are my mother, or like-minded, you might have noticed that I haven't done a 365 photo post in about 3ish weeks. That is half due to my laptop crashing and taking everything with it, and half due to me just being lazy and not breaking my camera out every single day. It kinda started to feel like a looming chore that I only remembered at the end of the day when there was (obvs) no natural light. So maybe that will reconvene at a later date. Maybe not. Life is too short and I've decided to stop caring about silly things like self-imposed challenges/deadlines.
We'll start off with the one real-camera pic I've taken of my family recently. I call it "Don't leave us, Daddy. She's only had one cup of coffee."
Speaking of life being too short, I am now trained to PROLONG your life in case of an emergency such as choking, cardiac arrest, cardiac arrest due to choking, making a sling out of triangle-shaped bandages, and very loosely wrapping a flesh wound until you can get your injured self to someone who knows what they're actually doing. If your local Red Cross offers a "blended learning" course in first aid/CPR/AED, I highly suggest you take it! The bulk of the class is done online and is very thorough. Then you spend two hours hammering out the physical details and working on bringing your dummy back to life. Spoiler alert: your dummy will never show signs of life because he has no arms and has been severed from the waist down due to some seriously horrific accident and you will leave defeated. But it's not a total loss because they give you your certification card and some flash cards in case you forget how to do everything you just learned. Although I feel more confident now in my life-saving abilities, I did spend most of the class praying that I never have to deal with one of these situations.
After returning home from my class, I took the kids out to our apartment's playground area and it was swarming with kids. I turned to talk to a friend and then I heard a scream. Sam was sitting on the ground surrounded by some big kids and an old Korean man that was rhythmically humming over him. (?) Apparently this hoodlum RAN OVER my Sam with her BIG BIKE with METAL BARS coming out of her BIG TIRES. (Seriously, why are people buying their kids these awful bikes?) His leg looked horrible and the little girl (little as in age, not in size) wouldn't ever directly answer my questions because I think she was scared I was gonna go batshit crazy on her. But, we are fairly certain that said hoodlum wasn't paying any attention (safe to say that Sam wasn't either, or was still in his "the world revolves around me" bubble), Sam ran in front of her, and then her front metal bar took him out, then her back tire ran over him. I thought his kneecap had shattered (was envisioning dealing with "doctors" here and uncorking a wine bottle in my head), but after I promised him a show if he let me put ice on him, he calmed down and then.... STARTED WALKING ON IT. (facepalm) Later, I asked him how his leg was feeling and he put on his pitiful face and started limping on THE OPPOSITE LEG and well, let's just say that I'm still drinking wine, but for slightly different reasons. So while his leg looks nasty, he's feeling fine- jumping off of couches, beds, chairs, tables, running, running, running, and even kicking his sister. I'd say the rest, ice, and elevation (THANKS RED CROSS CLASS) really contributed to his quick recovery. Was hoping to wait a few years or never to test out my newly learned skills, but now I really feel like that $50 was well spent.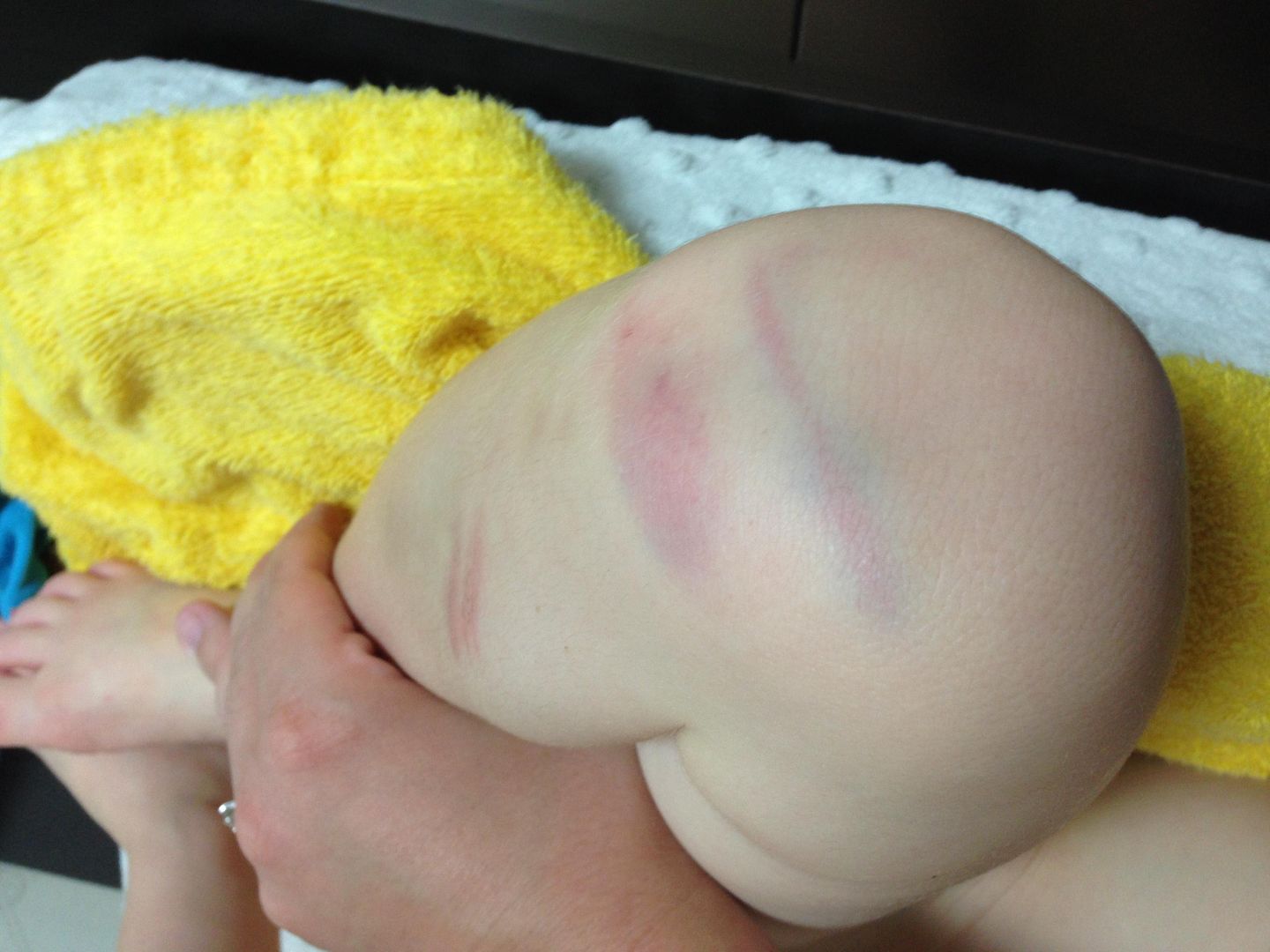 Speaking of getting beat up, I got another Korean massage. (I KNOW.) But this time I just opted for a FOOT massage. I thought, surely, this will be better. But surely, it was not. It was like he unleashed all of his anger on my lower half instead of my entire body. Because of course the foot massage went all the way up to my pelvis. At one point, he was actually punching me in the thighs and then slapped my ass before assaulting me from the other side. My (pregnant) friend that was with me got a much gentler massage (so, #protip: puff out your gut, rub your belly, and tell your Korean masseuse that you're prego and maybe then they'll go easy on you). I was laughing so hard that I was crying all of my makeup off. And not because it was funny, but I think that is just my body's natural reaction to pain that just can't possibly be happening again. After karate-chopping my back, I was allowed to leave. That will be my last massage. Amen.
Steve found his wedding band last night during bathtime whilst digging through an old basket of bath toys behind the toilet. I was convinced that a child had thrown it in the trash when he wasn't looking (because he takes his ring off to bathe the kids.... I haven't heard a convincing argument yet as to why). Anyways, this ring had been missing for weeks. At the time, he had also misplaced his $ungla$$e$ ($$$$) and his dog tags. He knew that once he found those items, the ring would be found also. Welp, nope. That didn't happen. But the ring was finally found and we don't have to resort to Steve's helpful solution which was to get matching ring tattoos on our fingers. And yes, that was his actual suggestion.
He opted for a very "Captain Planet" pose
We have been having some significant issues with behavior after turning off the tv, as of late. Mostly, everyone screams and whines and acts like the spawn of Satan because how dare we only let them watch one show a day. We are horrible parents. And they don't hesitate to share those feelings with us. (Ahh is open communication with our children always going to feel this rewarding? God, I hope so.) It had gotten to the point where Steve told me we were going to box it up one night (after an epic show of defiance from the younger set of humans). I was on board, but then we had wine after the kids finally went to bed and as you can imagine, the tv plan never happened. So a few nights later, it was rainy and we still had about two hours before bedtime. We decided to let them watch a show. Kinda like a tv-send-off. I told them both before we turned it on, "When this show is over, we are turning the tv off and going to bed. If I hear one single whine from either one of you, Daddy and I will put this tv in a box and send it to a family that doesn't have whiny children. Do you understand me?" Lots of yes ma'ams and total agreement. Steve and I looked at each other smugly, knowing what would happen as soon as the show ended. Well. You know what happens when we think we have this parenting thing down pat. The movie ended, Sam hopped up from the couch, ran over to the tv, and before the first line of credits started rolling said, "Ok Myer! Movie's over! Time for bed! Let's go!" They both got up and ran to their room and went to bed. Wtf.
Sam, loudly, in church the other day: "I CAN SEE HIS NEPPLES IN HIS SHIRT!" "OH, WE DON'T TALK BOUT NEPPLES." "OR BEWBS." (Me: dying a slow death of mortification in the back pew)
Someone is coming to inspect my apartment today. According to the horribly translated announcements in our complex, there is some sort of lawsuit against the complex and they are inspecting every single apartment. No one (who speaks English) knows what's going on and one of my neighbors said they were only looking at load-bearing walls, and all of this makes me a hand-wringing sort of nervous. "Children, don't go too close to the windows. You know, in case hunks of our apartment start to crackle off and fall 13 stories to the ground. Not sure if this place is structurally sound." Even though it's probably NOTHING, I still have people coming to my house (including the owner of our apt, who last saw this place completely decimated by kids toys and food crumbs sprinkled throughout), and so as not to appear to be a typical American slob, I set out to give this place a good cleaning. And it is SO CLEAN. (But omg before that it was SO EMBARRASSINGLY DIRTY.) We are going to have to leave until the inspection so that no one puts a fingerprint on anything. A neighbor has graciously offered to let us come tear up her house in the meantime. Whew.